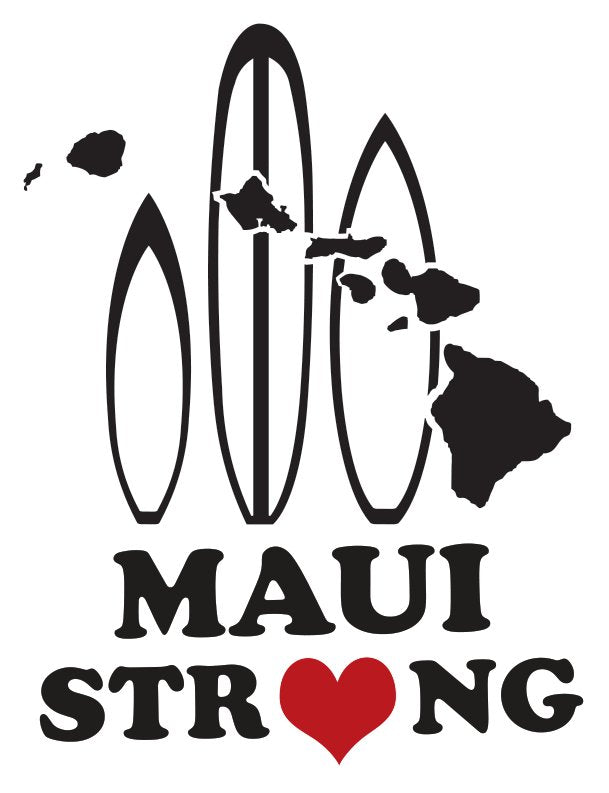 Maui Strong. 💯% of the profits from your purchase of any of our Maui decals including Lāhainā, Kihei, Kula, Haleakala, etc., decals, will be donated directly to the Maui Foodbank, Hawaii Community Foundation's Maui Strong Fund (501c3), snd to the Maui Humane Society. Support needs for folks and animals who have been affected by the recent fires on Maui is going to be an ongoing need  
All of Maui is devastated and traumatized by the horrific fire damage which includes other areas on the slopes of Haleakala in Kihei, Kula, and Olinda.
We started Rubber Stamp Plantation in Lāhainā, just making gecko stamps for the 5 Gecko Stores. The Gecko Store on Front Street was next to the Lāhainā Library, at the bottom of Dickinson Street. Everyone instantly smiled as they walked in, realizing the floor was covered with sand! Do you remember? 
We make this delightful sticker in 2 sizes: Mini 2" decals and single 4" decals.
Create aloha every day when you decorate your laptop, phone, surfboard, snowboard, kayak, water bottle, journal and any other smooth dry surface you can possibly imagine!  We use premium waterproof vinyl that's weatherproof, waterproof and can even go through a dishwasher. 
We make Hawaiian Island Decals, and most of our other products in our little Rubber Stamp Shack in sweet Kalihi, on the Hawaiian Island of Oahu. All of our designs are our original artwork. Keep an eye out for more to come!